For the full year 2022, 36% of active managers outperformed passive management. This figure masks a contrasting situation throughout the year. In the first half of the year, in a context of geopolitical crisis and an uncertain economic environment, few active managers managed to outperform passive management, on average 36% over the first two quarters. In the second half of the year, in the wake of the Fed's policy change and the rebound in the market, there was a significant improvement in the performance of active management as shown in the graph below with an average of 51% of active managers outperforming passive management over the two quarters.
Contrasted quarterly results
Quarterly % of active funds outperform passive funds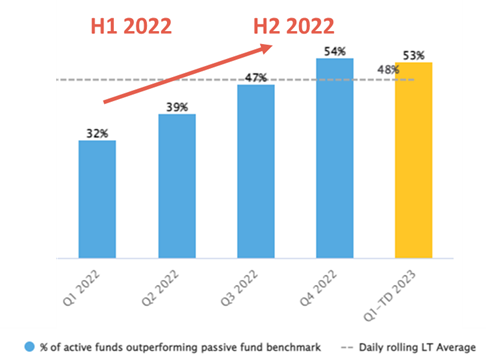 % of active managers outperforming passive funds
Source: Morningstar and BSD Investing average data of all universes
Source : BSD Investing, proprietary database. Data from 31/12/2012 to 31/12/2022. Active fund performance is compared to that of ETFs on the same indexation.